six weeks of happy, highly sensitive holidays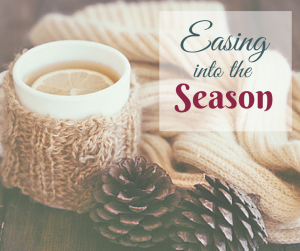 The holidays are a time of celebration.
A time for friends, family, presents, parties, and delicious treats.
The holidays are also a time of frenetic mall shoppers, anxiety-packed parking lots, and Jingle Bells on repeat. Which to a highly sensitive person means that the holidays can be a time of chaos, overwhelm, and jangled nerves.
Trust me, I've been there. Braving the crowded malls, standing in infinite lines, and coming home frazzled and drained, with no energy left for myself or my loved ones. I did this holiday after holiday, until I realized it didn't have to be that way.
And so I offer you the gift of peace.
Peace of mind.
Peace of being.
The kind of peace where your shoulders relax automatically, your breath flows a little deeper into your belly, and you're able to enjoy time with your loved ones.
I want the holidays to be a time of peace for you.
Easing into the Season is a daily pause from holidays-as-usual to help you create space for your highly sensitive self, and build in the self-soothing support structures you need at a time when the world is covered in crinkly paper and powdered sugar.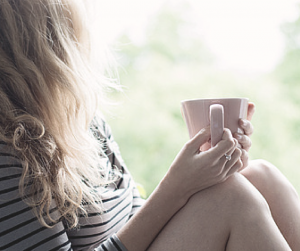 Consider this an invitation to sit quietly for a few minutes each day with a soothing cup of tea and a soul-centering email. Each week will include a sustaining self-care practice, an intention, meaningful inquiries, and recovery tips (for those times when you overdo it a little… like we all do once in a while).
Written for an HSP by an HSP, Easing into the Season is meant to help you create some spaciousness, ease, and self-nurturing practices so that you can give more to your loved ones (and including yourself).
For six weeks starting on November 24 and ending January 2, you will receive a daily email Monday through Friday. That's 30 days of intentionally created pauses to allow more presence, ease, and meaning to fill your season for $30.
Easing into the Season has a slow, gentle rhythm. Each week flows from intention to practice to meaning, with some questions and tips sprinkled in for good measure. Your days are busy enough, so the emails aren't meant to take up much time, but even five minutes a day of quiet focus will help you create a more easeful holiday for yourself.
Easing into the Season is closed for 2014. Sign up for my newsletter to find out when it's coming back.
---
Not sure if you're a highly sensitive person?
According to Dr. Elaine Aron's definition, the highly sensitive person (HSP) has a sensitive nervous system, is aware of subtleties in his/her surroundings, and is more easily overwhelmed when in a highly stimulating environment.
A few clues that you might be highly sensitive:
You are easily overwhelmed by bright lights, strong smells, itchy fabrics, or loud noises.
You shutdown or get rattled by having too much to do in a short amount of time.
You avoid the news and violent movies because they effect you so much (like you can't get the images out of your head or leave you physically uncomfortable).
Sometimes you need to be completely alone without any sound, lights, or touching.
You notice subtleties others miss (sounds, tastes, smells, etc).
These are not the only clues, but if most of these sound like you, chances are you're an HSP. Welcome to the club.
---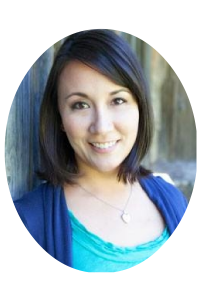 Hi, I'm Patricia Lawless. I'm a life and leadership coach, writer, and speaker. And I'm an introvert (INFP for you Myers-Briggs geeks like me) and HSP.
I believe that self-care is knowing who you are and what you need in order to be the best version of yourself. And that as introverts and highly sensitive people, we have to take exquisite care of ourselves in order to bring out most important gifts to the rest of the world.
Easing into the Season is my gift to you this holiday. I hope it brings you peace.