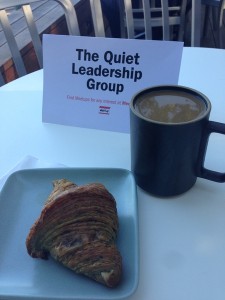 At the end of August 2014, I created the Quiet Leadership Meetup group.
I didn't really think anyone would be interested. And my gremlin really didn't think anyone would join.
But I had a feeling that there was a conversation that needed to happen with introverts and HSPs about their impact in the world. So I took a chance.
What do you picture when you think of a leader?
My guess is it is close to the stereotyped version, which is some guy who is:
Bold, brash, and energetic
Has no problem stirring up crowds of people
Somehow larger than life
Most likely an extrovert
Quite possibly kind of stern or serious or authoritative looking
But that only describes one kind of leader. There are lots of leaders who move nations gently, grab people by the heartstrings through a look, or gather a following through the depth of their belief (not the loudness of their voice).
And that doesn't even begin to cover all of the ways that leaders and leadership can show up.
What is Quiet Leadership?
From the description of the Quiet Leadership Meetup group:
This group is for introverted and highly sensitive people who believe they have something to do in their life (that is, they have a purpose or are searching for meaning). It is for people who want to make a difference. It is for people who know (or want to learn) that leadership has nothing to do with being the loudest or flashiest person in the room, and everything to do with why you're here.
Leader – someone who knows their purpose and creates something from that that impacts their world.
That may sound lofty, ambitious, or "too big", but you are already making an impact in your life and your world. The question is really what impact are your creating? Leaders know and create with intention.
Quiet leadership is about finding your purpose (what drives you and gives meaning to your life), letting go of the need to fit the stereotypes, and bringing more of yourself authentically forward. Because that's what's needed.
Are you a quiet leader?
No one can decide for you. It's more than being an introvert or HSP, it's also feeling that call to something more. The desire to make a difference (in your family, your community, or the world).
Four and a half months since starting the Quiet Leadership Meetup group, there are now over 130 members (so I guess my gremlin who thought no one would join was wrong). And one of the comments I hear most often is how reassuring and nurturing it is to be around other people who get them.
We all need community.
If you are a quiet leader and live in the San Francisco Bay Area, come on out and join us. And if you live elsewhere, be sure to sign up for my newsletter because I have some products and online community ideas that I'll be rolling out in the coming weeks just for you and other quiet leaders like you.
P.S. Foundations is coming soon!